At GEOLYTIX we seek new and innovative ways to make spatial analytics accessible, exciting and indispensable. Our customers span the retail, financial, property, leisure and food & beverage industries, across the world.
We build innovative solutions to support our clients to make better decisions combining various forecasting methods and statistical models, and our online mapping platform (MAPP) to create bespoke solutions. We are always looking to do things better.
We have fun and value every member of our team.
Are you our next Data Engineer?
About the Role
As a data engineer at Geolytix you will be
The essential link between our Data Science and Mapp teams, productionising our models built by our data scientists and providing APIs and interfaces that can be integrated into our web applications by our Mapp team.
Maintaining, monitoring and extending our data infrastructure
Working with our data team to productionise our data products automating and improving their workflows
About you
Your idea of a good day is being given a heap of code, SQL, python etc and working out how to make it run faster, more efficient.
Our current tech stack is postgres on the DB end and python on Google cloud on the web services end - a pro at these would be the perfect fit but experience in other technologies and willing to learn is good too
You'll be able to work with people with different skill sets (data science and web developer) and be able to translate and communicate and champion the needs of one team with the other.
You may have been a web developer or a data scientist in the past but have an interest in how the other works.
You are the power behind the scenes that make everything work.  When you do a great job it's like magic.
You care about how big a virtual machine needs to be and where to host your model in the cloud.
Your qualifications and experience
You are amazing at using SQL especially in a geographic setting (Postgres/PostGIS, MSSQL etc).
You can code in one of Python, R, Scala -
You are familiar with a cloud platform AWS, Azure or Google, you probably know bash and set up virtual servers and installed postgres.
You understand data science using R, Python, Scala etc – terms like XGBoost don't scare you
You have an interest in building APIs, maintaining cloud servers
Not essential – you have relative experience with our client's industries - retail, Banking etc.
You've worked in a role with stakeholders of different backgrounds and as a strong communicator you have the ability to work with colleagues remotely across the globe.
Benefits
Flexible working
City Centre office location
Vitality Health membership
Great maternity and paternity schemes
Cycle to work scheme
Tusker Car Purchase scheme
Bonus scheme
Opportunity for all employees to become a shareholder on our long term incentive plan
Other stuff
Our offices are in Leeds and Clerkenwell, London. The role can be located in either.  Competitive salary. We're a young and growing company who embrace flexible working; full time or part time, family friendly hours and/or working from home days considered
Interested?
If you are interested in this role and are looking for your next challenge, please send your CV and cover letter to careers@geolytix.co.uk. No agencies please.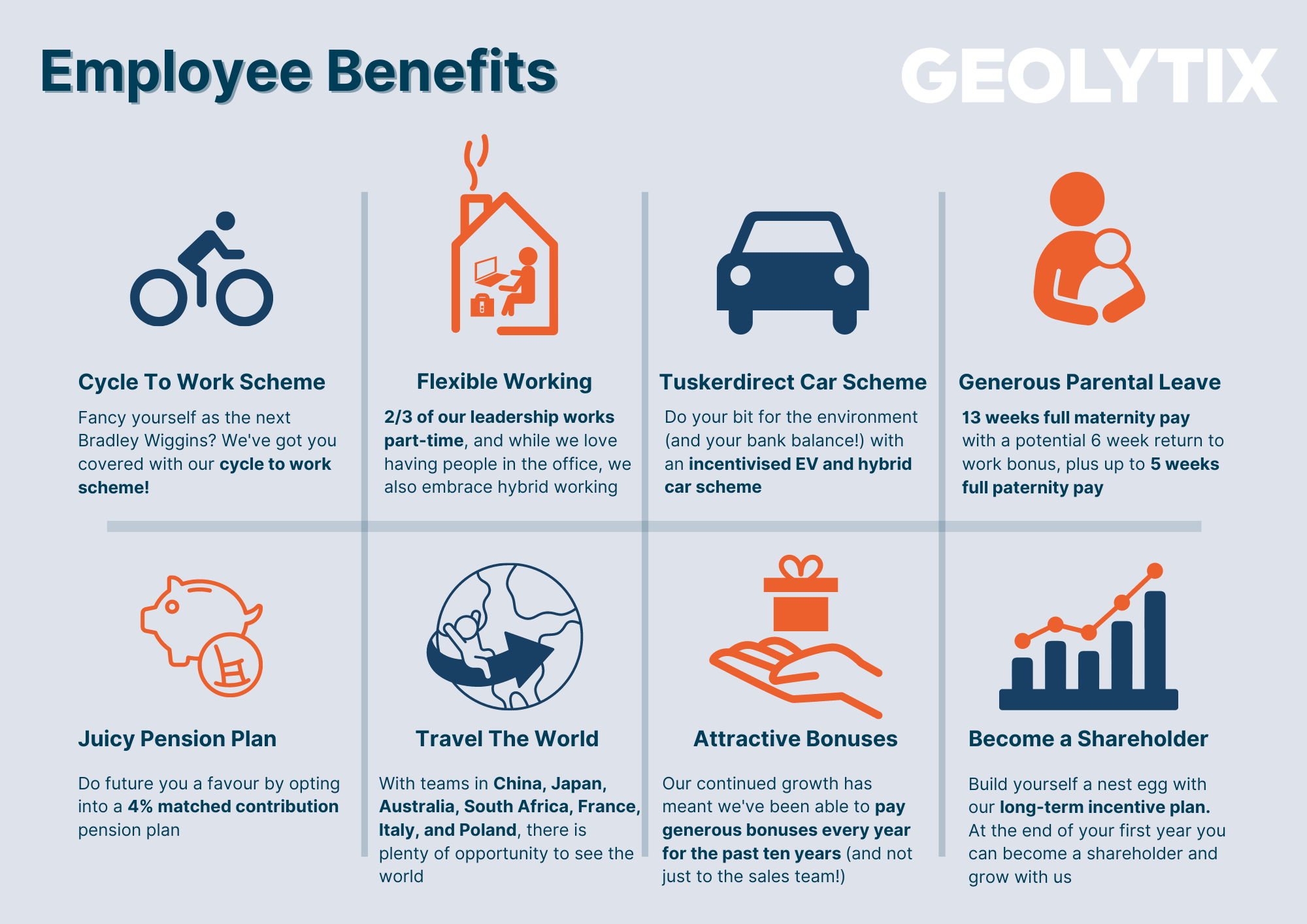 Main Photo by Pablo Gentile on Unsplash