There have been changes in the UK supermarket world since the last release with the most notable one being:

Morrisons selling their M Locals to Mike Green which have now been rebranded My Local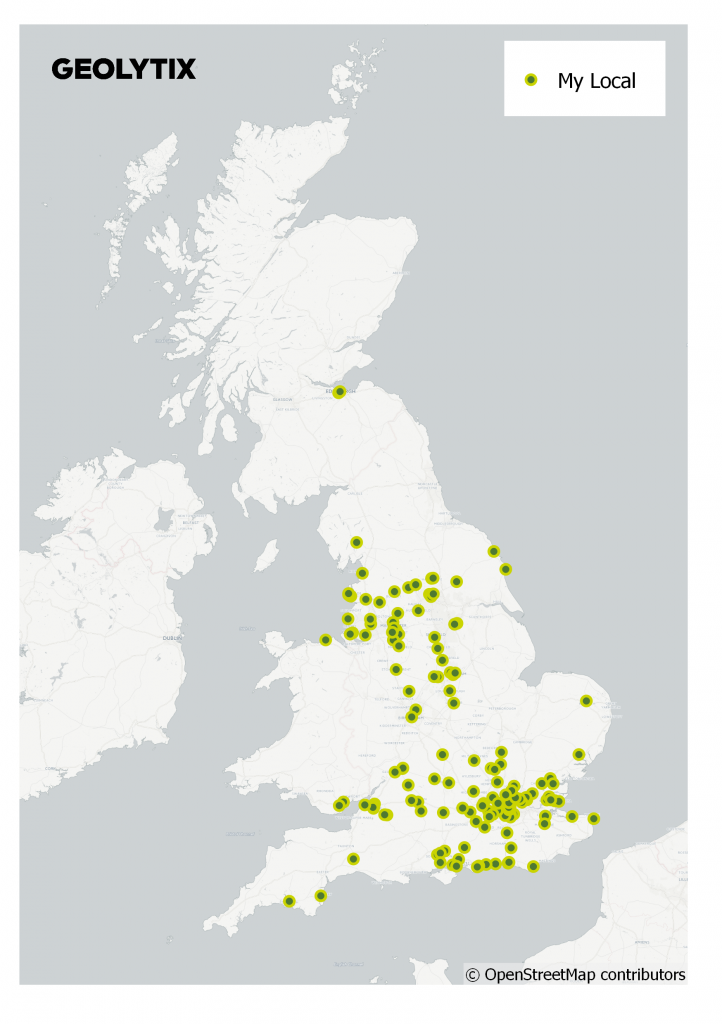 Along with the incorporation of openings and closings across the retailers over a few months we have also expanded our freezer store fascias. After Iceland's were included in the September release we have now included Farmfoods, Fulton Foods and Heron.
Another new feature to the April release is a size band for each store, this is based on a four way classification.
A – Less than 3,013 ft² (280 m²)
C-Store with unlimited Sunday hours in England and Wales.
B – 3,013 to 15,069 ft² (280 m² to 1,400 m²)
Mid-sized grocer as defined by the CMA. Restricted Sunday hours, typically the large majority is food.
C – 15,069 to 30,138 ft² (1,400 to 2,800 m²)
Large supermarkets as defined by the CMA. Typical 'large' supermarket with GM and fashion offer.
D – 30,138+ ft² (2,800+ m²)
Also large as classified by the CMA. This is a Geolytix arbitrary banding to equate roughly to a hypermarket, typically with significant clothing and GM departments and large free car park.
If you have any comments or contributions then as always please get in touch.
The data and supporting documentation can be downloaded here.
Title Image: Photo by Gaelle Marcel on Unsplash