2nd November 2021 saw the opening of Pop Up Horsham, a Sussex Council Pilot Scheme aimed at helping young, independent local businesses to thrive on the high street.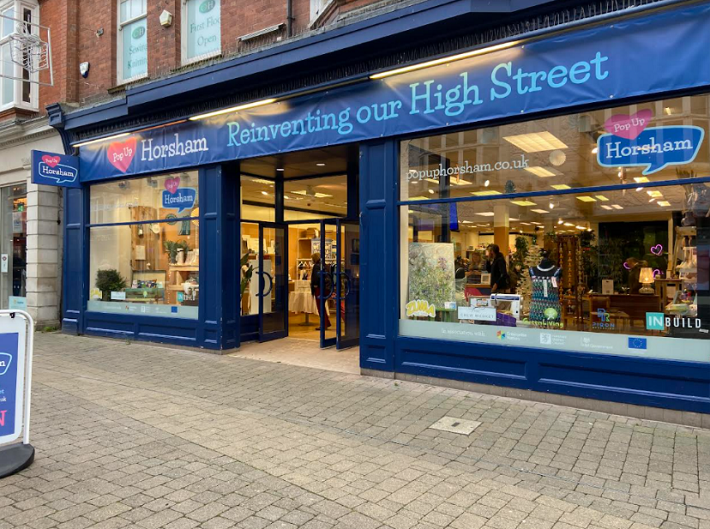 The Covid-19 pandemic has altered the retail landscape up and down the country, but there has been one positive trend – a surge in independent business start-ups; according to the Financial Times, the pandemic ignited the UK's strongest start-up boom in a decade, with Horsham being rated as one of the UK's top hotspots for entrepreneurs.
The Pop Up Horsham scheme kills two birds with one stone; firstly, the initiative supports those who have started a new business in the past 18-months by providing them with the opportunity to 'try out' a physical retail premise. Whilst the Pop Up scheme itself has rented the council owned building for 6 months, independent businesses can rent a space in the building for a length of time that suits them – at a discounted rental rate. Speaking to one of the staff in store, currently they have independent businesses renting space from 1 month to the full 6 months -this flexibility really places weighting on the 'try out' element, as moving from an online to physical store presence is a big step for many entrepreneurs.
As well as benefitting from retail trade, participants in the scheme are also able to take part in a range of business training programmes, held at the Pop Up hub. Run by experienced training partners, independent local business owners are equipped with business skills, hopefully maximising their success and survival.
The key word here is 'entrepreneurs', as the Pop Up scheme is not just aimed at start-ups of businesses with physical products. The scheme is also helping local entrepreneurs who want to try out a high street space for activities ranging from Yoga and Zumba fitness, to art classes and even business meetings – all held in the function room upstairs.
Charley Crocker, Pop Up Horsham Founder and Project Manager, says that providing shop floor retail experience and business coaching all within a "supportive network of like-minded start-ups and businesses, coupled with one-to-one personal mentoring" provides the foundation for start-ups to make that step onto the high street.
Secondly, the scheme helps to reinvent the high street, bringing life back into previously vacant retail spaces. The retail unit, located on West Street, is in a prime location, in close proximity to Swan Walk Shopping Centre and two of the main central car parks. As shown in the map below, East Street experiences high mobility levels, encouraging for both the high street itself, and the Pop Up scheme.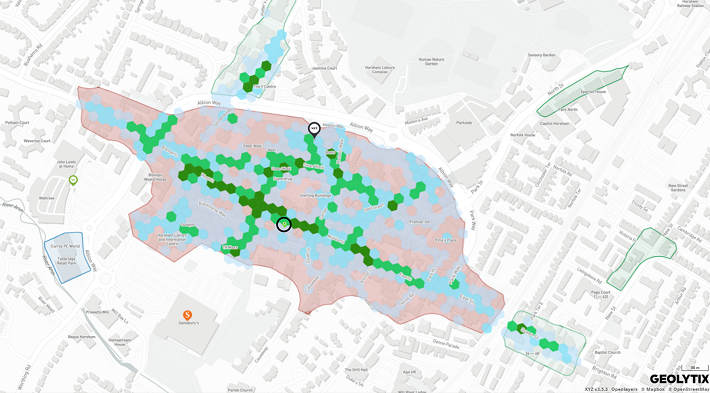 The current space, located on West Street, is now full of life; an eclectic window display featuring items from all the stalls adds not only colourful imagery to the high street, but a curb-appeal that is attracting attention. Since it opened, the shop has been bustling with attention from both independent retails and customers alike. Bringing life back into the building, which is currently full of an array of stalls, from skin care, to paintings, children's clothes to brownies and plants, having a space that is in use is arguably more appealing to potential renters than a vacant space.

This is a hopefully secondary impact of the scheme; High Streets have seen vacancy rates rise during the pandemic and this scheme also allows Horsham council to advertise their vacant space.
The council building used at the moment is both a fantastic size and location, and as seen on our map above is at a focal point of mobility on the high street. If the retail space is rented in 6 months, the scheme will simply relocate to another vacant council building, continuing to support local start -ups whilst showcasing the retail space on offer in Horsham. Hopefully this scheme is a success and similar schemes will be set up in other high streets in Sussex and then further afield.
Kate McGoldrick, Communications Officer at Geolytix
Title Photo: Taken by Kate McGoldrick, day after store opening